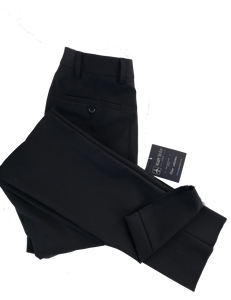 Women's black trousers Airways Aviation by readytofly
 "Perfect harmony between the nobility of wool, the reliability of a high-performance synthetic fibre and the comfort of an effective elastane fibre".
Pants with a timeless design that is particularly comfortable to wear.
Technical description:
- Elegant, sober and resistant.
Fabric: Fabric :
- 43% wool for elegance,
- 53% polyester for sobriety,
- 4% elastane for resistance and comfort.
- Button and zip closure.
- Double clamp for seating comfort.
- The colour is midnight blue.
- Rider pocket on the front.
- Inner lining up to the knees.
- The belt is reinforced and contains 6 loops.
- The ironing is done with a damp cloth for the pleats, washing at 30°C by hand or machine.
- Bottom of trousers without hems.
Pantalon noir femme Airways Aviation by readytofly
 « Parfaite harmonie entre la noblesse de la laine, la fiabilité d'une fibre synthétique performante et le confort d'une fibre élasthanne efficace »
Un pantalon au design intemporel particulièrement agréable à porter.
Description technique:
Élégant, sobre et résistant.
Tissu :
43% de laine pour l'élégance,
53% de polyester pour la sobriété,
4% d'élasthanne pour la résistance et le confort.
Fermeture à l'aide d'un bouton et d'un zip
Double pince pour le confort en assise.
Le coloris est bleu nuit.
Poche cavalière à l'avant.
Doublure intérieure jusqu'aux genoux.
La ceinture est renforcée et contient 6 passants.
Le repassage s'effectue à la pattemouille pour les plis, le lavage à 30°C à la main ou en machine.
Bas de pantalon sans ourlets. 
Ce pantalon pilote est un produit ReadytoFly
Il a été pensé, conçu, confectionné et, surtout, mis en condition, testé et éprouvé par l'équipe ReadytoFly.
C'est un gage d'authenticité, de qualité et d'élégance.
La marque ReadytoFly s'adresse à chaque personnel navigant. Toujours taillés dans des étoffes de qualité supérieure, les pantalons pilote ReadytoFly sont étudiés pour un entretien et repassage facile, ils ont été sélectionnés pour leur résistance et leur confort.